This year-long course in letterpress will give students a full and comprehensive grounding in letterpress printmaking, from setting and printing wood and metal type, including book arts projects and much more besides.
Run over 30 weeks across 12 months with a year's membership of Hot Bed Press thrown in sessions run on Tuesday mornings from 10.30am to 1.30pm plus a second course from 3.00pm - 6.00pm.
On top of the 3 hours taught sessions each week there are 4 hours a week as part of our open access to carry on your work from the lessons. Your hours can be accrued to be used during our open hours. All students will also be able to top-up their hours with workshop usage at any time during open access throughout the week at £3.00 per hour.
Students will be supported through development of a number of set projects over the year focussing on producing a comprehensive body of work.
Course tutor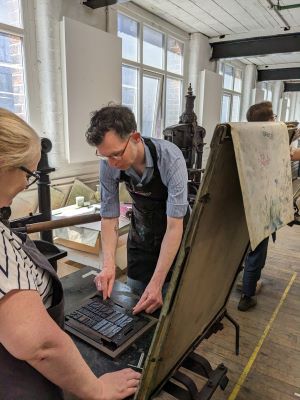 David Armes
David is our letterpress specialist. He has been teaching for us on weekend courses for many years and more recently has taken over the running of The Complete Letterpress printer, yearlong course. I am an artist working with print, language and geography. My work is frequently site-specific and often considers how place and landscape shapes understanding.